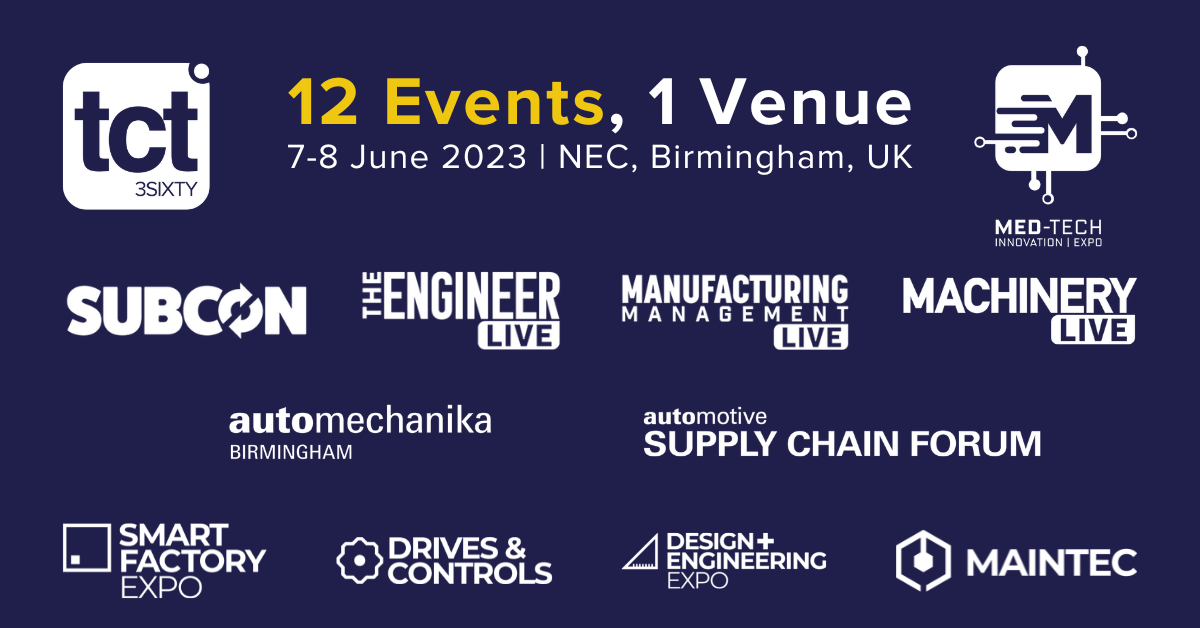 Co-located Events at the NEC Birmingham!
Come down to see a wealth of events covering all integral parts of the Manufacturing Process. Your one-pass ticket will give you access to all shows between 6-8 June 2023!
Have a quick look to see what shows you will gain access to by securing a ticket to join us then!
Tct-sixty
Tct-sixty TCT 3Sixty is firmly established as the UK's definitive and most influential 3D printing and additive manufacturing event. This June, brings together market-leading technology suppliers, brilliant service companies and the largest FREE additive manufacturing and 3D printing conference on the planet. Find out more information here
Med-Tech Innovation Expo
In June 2023, we're connecting leaders, engineers, innovators and manufacturers with all of the technology and innovation they need to facilitate the design and manufacture of life-changing medical devices. Find out more information here
Subcon
Subcon returns to the NEC in 2023, bringing together the full manufacturing ecosystem for the UK's longest-established subcontract manufacturing supply chain show. This show also includes Manufacturing Management Live, The Engineer Live and Machinery Live. Find out more information here
Automechanika Birmingham
Automechanika Birmingham is the leading trade exhibition for the UK automotive aftermarket and supply chain, the 2023 event will be the first UK based event since 2019. See more information here
Automotive Supply Chain Forum
Co-located with Automechanika Birmingham, the Automotive Supply Chain Forum is the dedicated trade event for the UK's automotive supply chain on the 6-8 June 2023 at the NEC, Birmingham. See more information here
Design Engineering Expo
For future-thinking design engineers to meet, share ideas and speak directly with those who are breaking engineering boundaries. Here, the UK's design engineering community can connect directly with leading suppliers from design services, electronics, embedded design through to testing and measuring to drive efficiencies and propel the future of design engineering in the UK. Find out more here.
Drives and Controls (Zone)
A zone in 2023 before it returns as a stand-alone event in 2024, Drives & Controls brings together key suppliers of drives, power transmission & motion control equipment covering critical areas such as energy efficiency, machine safety, robotics and automation. Find out more here
Smart Factory Expo
For manufacturing professionals to keep up-to-date and discover the latest technologies, processes and thinking behind Industry 4.0. For manufacturers at all stages of their digital journey looking to optimise the manufacturing process and production for the future. From site management and legislation through to materials handling, factory operations and digital transformation, discover new products and services to improve productivity, cut costs, streamline and become more competitive. Find out more here
Maintec
Maintec is the longest standing exhibition dedicated to the maintenance, reliability and asset management industry. Throughout its 40- year history, the event has continued to meet the needs of the maintenance engineer covering industrial, buildings & supply chain maintenance engineering and provides an opportunity to source the very latest technology available on the market. Find out more here